Your Guide to Hotels in Branson, MO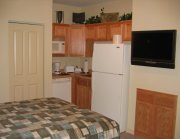 Fifty years ago nobody in Branson could have predicted where the town would be today. From a sleepy Ozarks town to an entertainment mecca, the explosive tourism growth has pushed the hotel industry from being almost non-existant to one of the leading businesses in the area. Hotels in Branson have had to compete to supply lodging to all the visitors, and this competition has led to growth and innovation.
Today there are thousands of rooms spread out among hotels in Branson, Missouri. These rooms have been built with customer value and convenience in mind. Many offer in-room microwaves and refrigerators for preparing food. For those looking for more luxury, many also offer in room jacuzzis or hot tubs.
The hotel growth in Branson has also attracted the biggest names in the hotel business. Comfort Inn, Days Inn, Travelodge and more have set up shop in town. New to the area is the biggest name in hotel lodging, Hilton. This intense competition has increased the value for visitors as each chain tries to attract more guests.
Don't let all the big names fool you though, there are still dozens of mom and pop owned places, and if you're looking for a down-home hotel in Branson these places may be your best bet. While they offer all the comfort of the brand names, they also offer the one on one customer service you associate with small town businesses. And these owners will often go out of their way to make sure you have the best possible vacation and remember their name.
Those looking for a hotel in Branson won't have to look far. They're located everywhere you might want to be. From downtown, to the Strip, to the lake, and everywhere in between there's a hotel to be found. Just do your research and pick the right hotels for your trip. If you'd like more information about hotels in Branson or just area info in general please contact us or get your free vacation guide by clicking the link on the right side of the page.