Free Branson Vacation Guide – 2015 Vacation Planning Made Easy!
2015 Branson Vacation Guide – Another Exciting year in Branson!
Last Updated 3/6/2015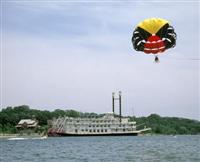 A free Branson Vacation Guide can be essential to plan your vacation in Branson, Missouri. Even if you have a couple of weeks vacation time, that will not be long enough to take in all the sights and sounds of Branson, MO. Did you know that Branson has over 100 live music shows? Although Branson has long been famous for country music shows, you now will find shows to fit any person's style no matter what age you might be or what area of the country you are from. Many artists make Branson, MO their year round home, while others are in town for special venues. You'll often run into the celebrities in local stores, restaurants, or on the golf course. Andy Williams has his own restaurant right next to his theater, appropriately called Moon River Grill. Shoji Tabuchi often starts his mornings at the Thousand Hills Golf Course just south of the Presley's Theater.
Don't forget that you will want a couple of days just to look at the Branson, MO scenery. The Ozark Mountains, coupled with three distinctively different lakes, are a vacation in itself. In the Spring Redbuds (which are actually purple) amply cover the rolling hillsides. Fall colors range from deep gold to brilliant red. Summer temperatures are rarely into the 90s and you'll always find a cool breeze when next to any of the area lakes.
To get a jump start on what's happening in Branson, please take a look at our free Branson Vacation Guide. This guide contains a listing of Branson shows and other Branson attractions as well as an up to date guide to local restaurants and super shopping venues. This free guide contains over 30 pages of information covering everything you will need to know when making your Branson Missouri vacation plans.
See a sample of the current Branson Vacation Guide, then fill out the form to receive the full version! Start planning your Branson vacation today!
Fill up the form below for sample of Branson, Missouri vacation guide.
Like what you saw in our Branson vacation guide? Go ahead & make your reserve your Branson lodging today at Thousand Hills Resort to experience all that Branson has to offer from Branson's best resort!