Branson Motel Information and Options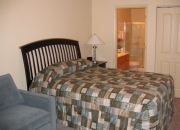 One of the first questions visitors need to ask themselves is what sort of lodging they are going to choose. One popular choice is a Branson motel – but that's just the beginning. With dozens of motels in the area to choose from, what else do you need to consider?
The first question to ask yourself is how many people are in your family or group? Will one room be enough, or will you need several? Many Branson motels offers discounts for larger groups, so this can be an important step in the decision making process.
How long are you planning to visit the area? Again, many Branson, Missouri motels will give a discount for longer stays, especially stays of a week or more. This will give you plenty of time to see the many attractions in the area.
This also leads to another question–what attractions are you interested in seeing? There are motels in Branson around every corner so pick which attractions you are most interested in and start your search. You're sure to find a motel nearby. Also consider Traffic-a motel on the strip can be convenient to many attractions but can also put you in the heart of the slowest traffic in town.
These questions are just a starting point but answering them will put you well on your way to choosing your lodging for your stay. From nationally known chains to local family owned motels that have been in business 50 years, there is going to be a Branson motel for your needs.
Your lodging choice can be the first step to an ideal vacation. Conversely, a poor choice will get your vacation off on the wrong foot. Be sure to research your options ahead of time so that when you arrive the hard part will all be over and your vacation can begin in earnest. Contact us for information to help you make a decision and don't forget to get a free vacation guide by clicking the link on the right side of the page.