Visitor's Info Provided by Branson Hotels.com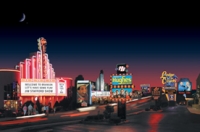 What does Branson have to offer as a vacation destination? Keep reading and you'll see why Branson Missouri is a leading vacation destination known world-wide.
Live Music And Shows! Branson is often called the "Music Capital of the World." With dozens of theaters and over 100 shows it's hard to argue with that nickname. Branson has traditionally been known for Classic Country & Gospel music-but each year the number of shows focusing on classic rock and newer entertainment options continues to grow. The classics aren't forgotten though, returning visitors will be able to see their old favorites and make new favorites.
Amusement Parks, Museums & More! From the world famous Silver Dollar City Theme park to the Hollywood Wax Museum Branson has a number of attractions not found anywhere else. Other popular destinations include Dolly Parton's Dixie Stampede, Sight & Sound Theater, miniature golf courses, go-kart tracks and much more.
Great Deals! Shopping in Branson is a unique experience. Whether you are searching for deals on antiques, or bargains at factory outlet stores, or upscale shopping districts it's all in Branson. Old Fashioned prices with big city stores and selection will give all shoppers the deal of a lifetime.
Restaurants and Dining! Whatever your dining taste you're sure to find it in Branson. National chains and local favorites are proud to call Branson home–Italian, Greek, Chinese, Homecooking and more will satisfy any appetite.
Natural Beauty! Branson and the Ozarks have long been known for their natural beauty. Branson features 3 lakes for swimming, fishing & boating, miles of trails for hiking and biking and mild weather almost year round the Ozark outdoors is always in season.
These are just a few of the reasons Branson continues to gain a great reputation as a great vacation spot. For more, be sure to request your free Branson vacation guide by visiting the links on the side of the page. We here at BransonHotels.com hope to see you soon!