Motels in Branson – Family Owned and Operated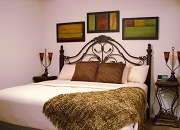 Visitors have been coming to the Ozarks for years, and when they do many choose to stay at motels in Branson. This motel lodging often provides a family owned and affordable place to stay while visiting attractions in the area.
A motel in Branson can be found close to all major shows and attractions, and they often provide discount tickets to many popular theaters and venues. There are dozens of motels on the famous Highway 76 strip alone which are located near all the action. Whether you're spending the day at Silver Dollar City or sharing an evening at Sight and Sound Theather there's sure to be a motel near you.
Unlike many large national chain hotels, many, if not most motels in Branson are locally owned and operated. The motels have often been in the family for years so the owners and staff are sure to know the ins and outs of everything there is to do in Branson, from shows to shopping to dining and more. Don't hesitate to make use of this valuable vacation resource.
Every day it seems like a new motel in Branson opens up, so no matter what the reason for your trip you'll find a motel to meet your needs. The sheer variety of lodging choices is one of the unique Branson qualities making it perfect for every vacation. If you have any questions about motels in Branson or would just like to know more about the area in general, please contact us or get your free Branson Area Vacation Guide by clicking the link on the right side of the page.