Branson Lodging Options and Information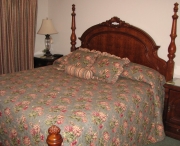 As tourism has boomed, Branson lodging options have expanded at a lightning fast pace. Travelers once had very little choice in where to stay beyond traditional hotel rooms. However in recent years numerous choices have opened up for savvy travelers.
The traditional option has always been a hotel or motel. The number of hotel rooms in town continues to grow and continues to be a popular Branson, Missouri lodging choice. There are numerous hotels in town, both local names as well as world famous chains.
Another option for many travelers are rental condos. These condos often give all the amenities of home including living rooms, kitchens and more. Families often prefer this type of lodging in Branson as it gives them more room to relax and enjoy longer stays. Condos can be found either as part of a timeshare company or can be rented nightly or weekly similar to a hotel room.
The latest and growing trend in Branson MO lodging is the exciting growth of luxury cabins. These cabins are similar to condos in that they provide all the amenities of home such as living rooms, kitchens, etc. Usually they are located in a more secluded area of town, which can lead to a more relaxing stay. More and more families are choosing cabins as their lodging of choice.
As Branson continues to grow, these options will continue to grow and evolve. As a leading tourist destination the providers will stay on the cutting edge of Branson lodging. For more information on your choices, please contact us and we'll be happy to help.